Twenty dwellings up to one thousand or more dwellings developed at a pedestrian mixed use density that offsets conventional development patterns to preserve permanent green space for recreation, farming and natural habitats.
What is a Conservation Village?
The Conservation Village draws from the historic agrarian and artisan village concepts to restore existing neighborhoods and create new pedestrian oriented towns, villages and hamlets.
Like their forebearers, they are connected to farms and woodlands, although they also internalize green spaces. They support their new ways with holistically oriented education and green economic development.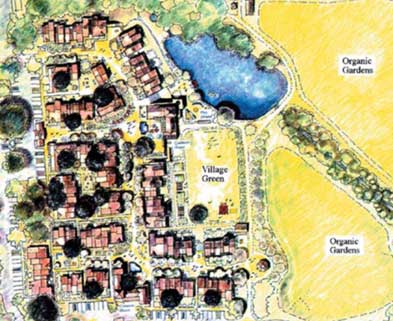 East Lake Commons
The second cohousing community planned by Village Habitat Design in Georgia, East Lake Commons is located in a reemerging area of Atlanta.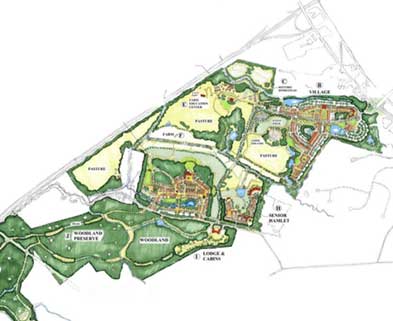 Farm Expo & Wellness Village
Plan a Wellness and Farm Center- a 640 acre conservation community development, which will integrate a wellness and farm expo village, a farm village, a senior hamlet and a woodland preserve with lodge and cabins.
As a conservation community it will serve as an educational model for wellness, organic farming and sustainable rural village and hamlet development. It will preserve an estimated 540 acres of farm and woodlands area (85% of the site) with a conservation easement and will create approximately 100 acres of pedestrian based village and hamlet development (15% of site).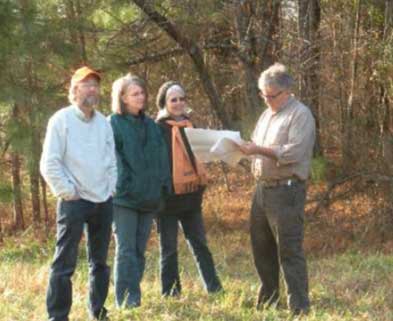 Hartsmill
Hart's Mill Ecovillage is located in Orange County, North Carolina about 20 miles west of Durham on a 110.5-acre site. The ecovillage will consist of a pedestrian layout (all cars clustered at the edge of the village) of 24 – 30 single family homes, a group home, a community education and recreation pavilion, a common house, workshops/studios/offices/cottage industries and other resident work spaces, a farm and farmstead and nature preserve.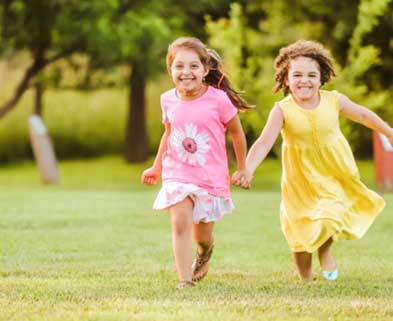 Pearlstone Moshav Summer Camp
In this space we will play, work, learn, care-take, pray, and celebrate in relationships between family, friends, land, and traditions. Our homes and common spaces will be simple, affordable, and earthwise dwellings rooted in a lush permaculture landscape that nourishes vibrant community life and inner growth.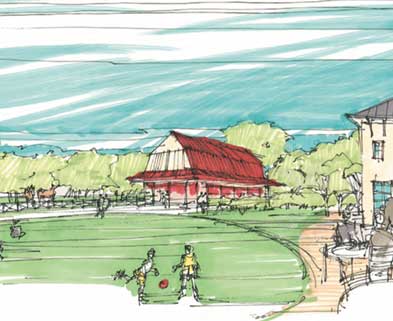 Middle Oconee River Village
As a Conservation Community, Middle Oconee River Village will model ecological planning and design while fostering neighborhood and community interaction and events.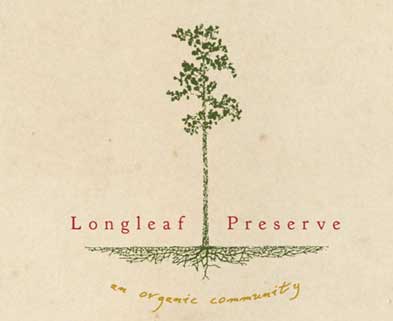 Longleaf Preserve
The vision for Longleaf Preserve is to create a community that greatly enhances the daily lives of its residents by fostering healthy living through every element it offers. Initially seeded by a group of dedicated preservationists and farmers, the community vision seeks to incorporate principles of preservation, active lifestyles and "farm to table dining" into all aspects of the community.
Nature's Spirit
Compact solar homes, pedestrian layout, agricultural production for village, work/live units, village cottage industries, village center including: cafe, library, bakery and conference center, intentional community and participatory design process.